If you're looking for a great camping experience, check out one of these 14 campgrounds in Wisconsin. a state known for forests and lakes.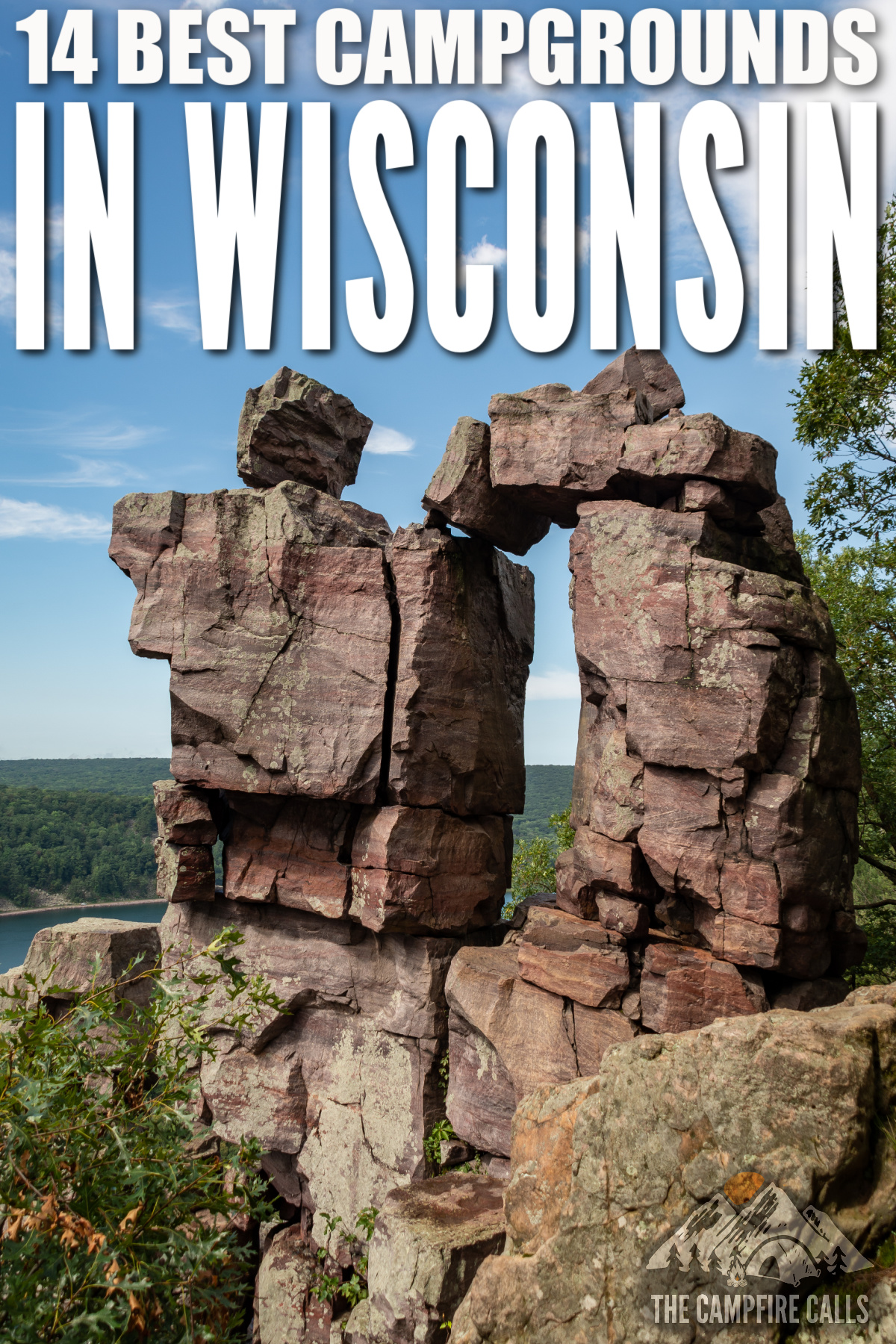 Wisconsin is a nature-lover's paradise, with its abundance of forests, lakes, and rolling hills. If you're looking for a great camping experience in the Badger State, check out one of these 14 campgrounds! From secluded spots to campgrounds near popular attractions, there's something for everyone here.
Wisconsin is a great place for outdoor adventurers. From its vast forests to its many lakes and rivers, there are plenty of places to camp and explore. In this blog post, we'll list fourteen of the best campgrounds in Wisconsin. Whether you're looking for an RV park or a primitive camping spot, we've got you covered!
Wisconsin has no shortage of stunning campgrounds, and this list showcases just a few of the best. Whether you're looking for a woodsy retreat or a spot by the water, these campgrounds have something for everyone. We are looking at great campgrounds located everywhere in Wisconsin from National Parks to Wisconsin State Parks.
So get your camping gear ready and explore all that Wisconsin has to offer! Here are 14 of the best campgrounds in Wisconsin:
Northern Lights Campground, Devil's Lake State Park
This campground is located 1-mile from the north shore day use area so you can conveniently enjoy your time in the Devil's Lake State Park without venturing far from camp via the connecting trails. The campground is only half a mile from the lakefront making it easy to venture to the water.
The Northern Lights Campground gets its name from the amazing views of the northern lights when they reach down into the state park. The views here at Devil's Lake are stunning and perfect for your next camping adventure. There are amazing hikes here well worth the track to see sights like the Devil's door.
Facilities: This campground has 246 sights including a mix of open and wooded. 71 of these campsites come with electrical access including wooded campsites. There are showers and flush toilets as well as fill and dump stations for RV visitors. There is a playground available.
Cost: Campsites range from $20 to $30 a night.
Wisconsin Ridge Campground, Wyalusing State Park
Wyalusing State Park has two campgrounds including Wisconsin Ridge and Homestead campgrounds. Wisconsin Ridge campground is located on top of the bluffs sitting 500 feet overlooking the Wisconsin and Mississippi rivers.
Wyalusing, one of Wisconsin's earliest state parks, offers group and family campsites, hiking trails, a canoe trail, Native American burial mounds, bird watching, fishing, boating, bicycling, and picnicking near stunning overlooks.
Facilities: The two family campgrounds contain 109 campsites while about half are located in Wisconsin Ridge. Some sites are set up with electrical hookups. Both volt and flush toilets are available in the campground along with showers and drinking water.
Cost: Campsites cost between $15 and $28 per night.
Smokey Hollow Campground
If you are looking for a resort-style camping trip in Wisconsin you can stop by Smokey Hollow Campground located near the Wisconsin Dells and Devil's Lake, It's a private campground, and a great location for exploring the state parks along with all of the great amenities the campground has to offer for families.
Activities at Smokey Hollow Campground are nearly endless. From a swimming pond with giant inflatables to outdoor movies, this campground has plenty of fun activities to keep your family busy on your camping trip. There are so many great things you can do here all day long.
Facilities: Smokey Hollow Campground has a total of 290 campsites all with water and electrical hookups. Campers here can opt to rent cabins with bathrooms and even kitchenettes to ensure that your family is comfortable even if camping isn't your thing quite yet. This campground offers flush toilets, showers, and a laundry room along with nearby groceries. You can rent bikes, pedal carts, and golf carts to get around this large resort campground.
Cost: Campsites range between $35 and $70 a night.
High Cliff State Park
High Cliff State Park is located over large limestone cliffs near the largest lake in Wisconsin. This is a sacred area to the Native Americans, and is part of the Niagara escarpment. The campground is located within walking distance of the cliff and marina.
There are no lifeguards here and swimming is at your own risk. This lake is perfect for boating and other water activities including boating, kayaking, and canoeing. Hiking, fishing, and can help keep you busy at High Cliff State Park. Bike and horseback riding trails are available from May to November. Some trails are designed for skiing and snowmobiling when there is significant snow cover.
Facilities: The family campground at High Cliff State Park has a total of 112 campsites with 36 of these sites having electrical hookups available. Volt toilets are available around the campground while flush toilets and showers are available as well as a trash and recycling dump station.
Cost: Campsites cost between $20 and $35 per night.
Whitewater Lake Campground, Kettle Moraine State Forest
Whitewater Lake Campground is located in the southern side of Kettle Moraine State Forest surrounded by lush trees and beautiful wildlife. Hike the trail down to the beach for swimming and a stunning sunset view.
This scenic campground is perfect for those looking to escape it all and get away from the hustle and bustle of the world around you. Whitewater Lake Campground is primitive camping making it the perfect place to escape from it all.
Facilities: This 63 site primitive campground has volt toilets but no showers are available. A dump and a recycling/garbage station are available for campers. There is a boat ramp and swimming area available for use.
Cost: Campsites cost $18 to $28 a night.
Copper Falls State Park North Campground
The north campground at Copper Falls lands within walking distance of the beautiful waterfalls themselves making this the perfect campground for those looking to enjoy the falls to the fullest. The spectacular falls, amazing lava flows, and deep gorges mean you won't run out of beautiful things to explore when staying at Copper Falls State Park.
The rustic appeal of log cabin buildings adds to the overall feel of the place as you trek through the miles of trails. Keep busy with hiking, bicycling, picnicking, fishing, and swimming in Loon Lake.
Facilities: The North Campground has 32 sites. 28 have electrical hook-ups while 4 do not and one site is accessible for those with disabilities. The park offers volt toiles and a water fountain.
Cost: Campsites here cost $20 to $35 a night.
Apostle Islands National Lakeshore
This camping trip is a bit unique. Instead of a centralized campground, you will find campsites on 18 of the 21 Apostle Islands. These campsites are not RV friendly in fact you can't drive to them. Packing light is the key to this adventure as you take a boat or water taxi to your destination.
For those looking for a remote camping getaway, this is a great choice. You can enjoy hiking, boating, swimming, and fishing. Try exploring underwater with scuba diving or trek through the ice caves on the mainland.
Facilities: The campsites on the Apostle Islands all have tables, fire rings, animal-resistant food lockers, and a nearby bathroom. The islands also offer primitive camping as well.
Cost: Campsites cost $15 for both designated sites and primitive camping. For groups of 8 or more 5 islands have group sites for $30 a night.
Chipmunk Rapids Recreation Area, Chequamegon-Nicolet National Forest
If you are looking for a great getaway from the rest of the world with plenty of trails to explore, the Chipmunk Rapids Recreation Area is located off Highway 70 west of Florence is just the ticket. This small primitive campground allows for drive-in yet secluded camping with plenty of privacy. As you enter the campground you will pass an artesian well that provides great drinking water year-round to visitors.
This area is great for fishing including trout. Water activities like canoeing in the rapids nearby will keep you busy on a hot summer day. The trails surrounding Chipmunk Rapids offer amazing sights to see for hikers. This campground is pet-friendly.
Facilities: The Chipmunk Rapids recreational area has 6 campsites with fire rings, a vault toilet, and drinking water.
Cost: Campsites cost only $15 per night with a discounted rate for pass holders.
Pigeon Creek Campground, Black River State Forest
Located on the corner of Pigeon Creek this campground is family-friendly and filled with great activities. Right off the lake, you can take advantage of this campground for swimming, canoeing, fishing, and hiking opportunities.
While Black River State Park does offer another campground closer to the river if you are looking to explore the river, the Pigeon Creek campground is a better choice for family activities with a safe swim area. This campground offers adequate tree cover to help keep you cool in the summer and trails for asking if you prefer to try your hand at winter camping.
Facilities: This rustic family campground has a total of 38 non-electric campsites. Each campsite has a fire ring to safely enjoy campfires. The campground offers volt toilets and hand pump water.
Cost: Campsites cost at $18 for residents and $28 for sites $ per night
Rock Island State Park
Rock Island State Park is a great place to take the family to explore. The campground is located at the southwestern tip near the ferry. This primitive campground is great for a getaway for the world around you. All campsites are walk-in sites and all supplies must be backpacked in. While small carts are allowed on the ferry the space is limited. This camping trip is best for those that want to pack light and experience the wilderness.
The island offers a variety of trails both through the island and along the outer edge of the island. There is a beautiful overlook to view lake Michigan and a lighthouse with nearby steps to go down to the water. On the south side by the campground, you will find a sandy shoreline.
If you are looking for a bit more privacy there are a handful of more remote campsites along the Thornborson Loop Trail overlooking the water.
Facilities: Each primitive campsite includes a fire ring and picnic table. There are vault toilets and available drinking water.
Cost: Campsites cost $20 per night
Castle Rock County Park
Castle Rock County Park is located in Adams County right off the Wisconsin River. The campground offers plenty of tree cover that helps to add some privacy despite the large campground. With yearly residents, you will find the sense of community here only enhances your stay.
There is plenty to do day in and day out. The park has everything you should need from concessions to playground equipment and holds several events and activities throughout the camping season. There is a swimming area and a boat launch.
Facilities: Castle Rock County Park has 200 campsites available including electricity hookups. This park is packed with amenities from a visitor center with an arcade, volt toilets, hot showers, and even water hookups at many of the campsites.
Cost: Castle rock county park has a carrying fee rate for tents, campers, and even a yearly rate. Rates for tent camping start at $20 a night while campers and RVs start at $25.
Wagon Trail Campground
Wagon Trail Campground can be found bordering the Mink River Nature Conservancy Preserve and Lake Michigan. This campground is all about the secluded sights where you can get away from the world. Here you will find quiet nights and plenty of exploring for you to enjoy. Follow the hiking trails or take a short hike drive swimming on a sandy beach.
With 145 sites spread across 75 acres, you will find more privacy here than most other campgrounds have to offer. Along with camping in tents or RVs you can rent cabins, yurts, and travel trailers allowing you to make this trip perfect for any style of camper.
Take advantage of the many offerings here including a camp store for supplies and fishing equipment rentals. With a game room, playground, and recreational field there is space for everyone to enjoy the trip. Rowleys Bay Resort is within walking distance. Here you will find a restaurant, bakery, pub, and a boat ramp you can use.
Facilities: Wagon Trail Campground has 145 sites spread out with plenty of tree cover for privacy. Clean bathrooms and free showers with toiletries are a big hit with campers looking for the comforts of home. Each site has a fire ring and picnic tables. Electric sites are available.
Cost: Tent sites start at $40 per night while RV sites with electric and water hookups start at $65 a night.
Amnicon Falls State Park
You will find the Aminicron Falls State park Campground down in the southern section of the park within walking distance of the falls. This makes hitting the trails to explore the falls the perfect way to spend your time during your camping trip.
Amnicon Falls Campground is rustic and charming. There are no electric sites here and generators are not welcome making this a great escape from the stress of every day when you have the perfect excuse of being unable to charge devices.
Facilities: There are 36 campsites at Amnicon Falls State Park, including one that is accessible for people with disabilities and two walk-in sites. There is a playground including a swing set and sandbox, as well as a large field perfect for family activities. There are restrooms with vault toilets and drinking water faucets.
Cost: Campsites cost just $16 per night.
Perrot State Park
Located in the uppermost corner of the 1200 acre state park you are bound to find plenty of places to explore while staying at the campground in Perrot State Park.
Parrot State park offers bicycling, swilling, fishing, canoeing, and even hunting. If you love to spend time exploring outdoors you will love your time here.
Facilities: The campground has a total of 102 campsites with, flush toilets, showers, and a dump station during peak season. For walk-up sites, carts are available for moving supplies from the parking lot to the campsite. Each campsite has a fire ring and picnic table available.
Cost: Campsites cost $15 for non-electric and $28 per night for electric sites.
We hope you enjoyed our picks of the 14 best campgrounds in Wisconsin based on scenery, amenities, and activities available. No matter what part of Wisconsin you're visiting, there's a great campground nearby that will make your trip unforgettable. So get out there and explore all that this amazing state has to offer! Make sure to grab our free printable camping planner to help you plan out your next trip!
What's been your favorite camping experience at a Wisconsin campground so far? We would love to hear about it, and what you think are the best camping spots in Wisconsin!
Disclaimer: Provided campground costs are current for 2022, but are subject to change. Please verify the cost with the campground prior to your trip. Campers may also be subject to park entrance fees.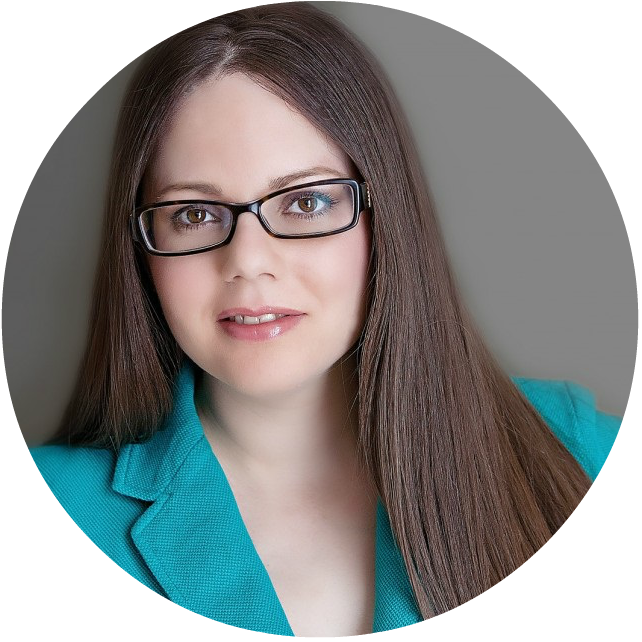 Elizabeth Lampman is a coffee-fuelled Mom of 2 girls who lives in the Niagara region of Ontario. She loves photography, camping, hiking, and travel.