Get the best camping experience by going to these 12 best campgrounds in Northern California. Start planning your next outdoor adventure now!
As an outdoor adventurer, you know that there's no place like California for getting your fill of stunning natural scenery. And when it comes to camping, Northern California offers some of the best spots in the state. Whether you're looking for a secluded spot by a pristine river or want to be close to all the amenities of a full-service campground, we've got you covered.
There are so many beautiful campgrounds in Northern California, it can be hard to choose just one! If you're looking for an outdoor adventure and some fresh air, these 12 campgrounds should be at the top of your list. From lush towering redwood forests to pristine coastlines, and from rugged mountains to vast deserts, we are sharing the best places to stay when you are looking for Northern California campgrounds, Northern California has something for everyone.
So get packing and explore some of the most amazing camping spots in the country!
Manzanita Lake Campground, Lassen Volcanic National Park
Northern California's Lassen Volcanic National Park encompasses over 100,000 dynamic acres of a striking environment at the southern end of the Cascade Range. With 175 campsites Manzanita Lake Campground is one of the more popular campsites in the area and does tend to book out pretty fast and can feel a bit crowded. If you would like a more secluded camping experience tent campers and hikers may enjoy the Summit Lake South Campground as an alternative.
Manzanita Lake Campground is open for tent, trailer, and RV camping. They offers 20 rustic cabins for camping as well as group campsites for larger camping groups. The campground is located about 1 mile outside of the park entrance near the Loomis Museum, Loomis Ranger Station, and over 150 miles of trails. Activities available at this campground include swimming, hiking, kayaking, canoeing, and fishing.
Facilities: Each of the 175 campsites have picnic tables, fire pits, and food lockers. There is at least one bed with a mattress in each cabin, propane heat and a lantern, a picnic table, a fire ring, and a bear-resistant storage locker. You must provide your own bedding. The facility offers both flush and volt toilets and drinking water. There is a boat ramp available for use.
Cost: Campsites on the water cost $26 a night while campsites off the water run just $15. Cabins here can range between $76 and $101 a night.
Azalea Campground, Kings Canyon National Park
Azalea Campground is located just 3.5 miles from Kings Canyon in the Grant grove area where you can obtain all services you need nearby. Located in Grants Grove is the perfect campground for hiking, fishing, and scenic views. Azalea Campground is centrally located to enjoy all of the attractions of Kings Canyon and Sequoia national parks.
The free shuttle during the summer months helps ensure that you can visit everything on your list while enjoying your camping trip. There is a host of ranger lead programs for the whole family and a junior ranger program for children to enjoy making this a great campground for getting out and enjoying a trip with the family.
Facilities: Azalea Campground has a total of 110 campsites. With reliable cell service, potable water, shuttles in the summer months, and bear boxes at each campsite, you can visit the Azalea campground to really enjoy the wonders of both Sequoia and Kings Canyon National Parks
Cost: $22 year-round discounted to $10 when services are limited due to heavy snow.
Hidden Valley Campground, Joshua Tree National Park
Hidden Valley Campground can be a bit rough for camping. Located along park boulevard and is surrounded by large boulders and Joshua Trees Hidden Valley Campground boasts its prime location to the Wonderland of Rocks. This desert camping location is great for rock climbing. There are pit toilets available but no water so plan ahead. This campground is great for when you just want to get away from the world.
Hidden Valley Campground is located in Joshua Tree National Park which boasts its amazing boulder and rock climbing but the park also offers a wide range of outdoor recreation including hiking, backpacking, biking, and star-gazing.
Facilities: BBQ grills and tables are available for each of the 44 available campsites. Firepits, grills, and pets are all welcome here though you will need to bring in your own wood as well as water.
Cost: Campsites are first come first serve and cost $15 a night.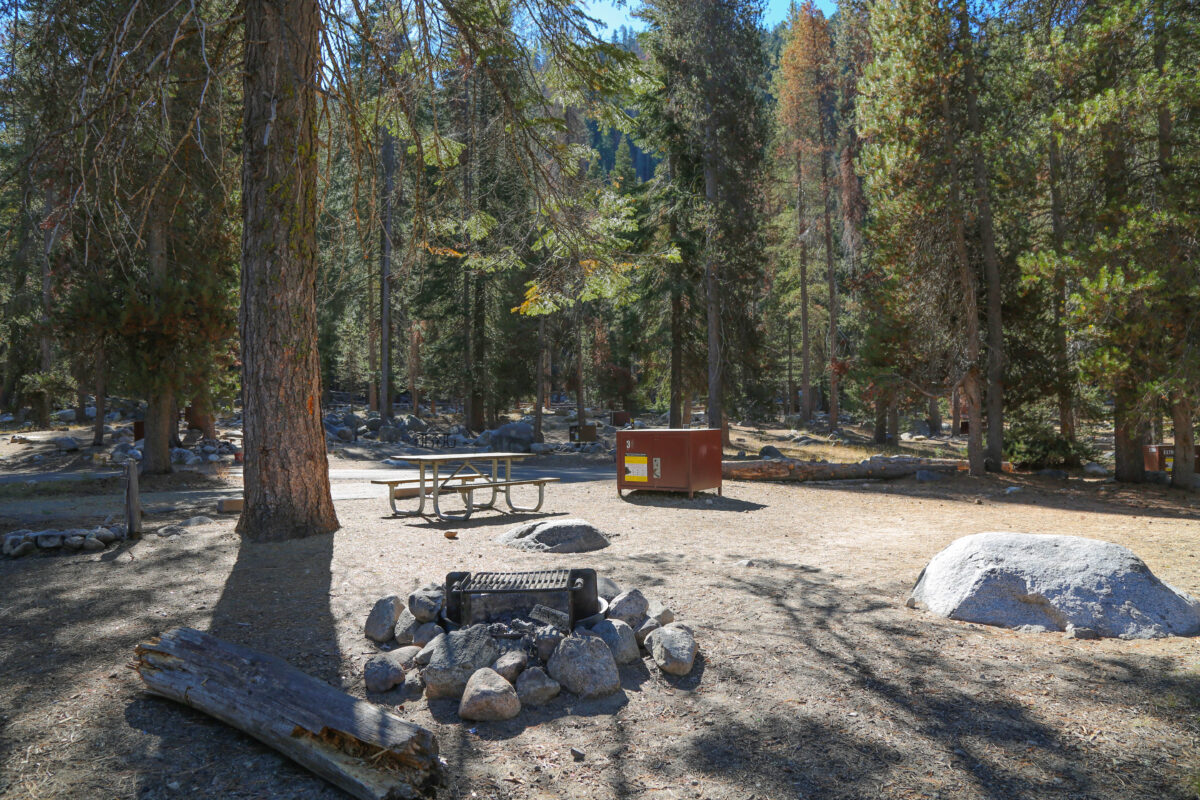 Lodgepole Campground, Sequoia National Park and Kings Canyon National Parks
One of the most popular campgrounds in Sequoia National Park and Kings Canyon National Park is Lodgepole Campground. This expansive campground along the banks of the Marble Fork of the Kaweah River is perfect for families looking for adventure in a popular spot. Lodgepole is a centrally located campground near popular hiking trails and amenities in Sequoia. This campground is tree-covered to help keep you cool with beautiful scenery but is crowded and offers little to no privacy.
Its central location to two of the largest most popular national parks means you will never lack in things to do and places to explore on your camping trip. The ancient forest of giant sequoias is accessible by a 40-mile trail system, including the paved Big Trees Trail.
Nearby are several more popular hiking trails, including the trail to Moro Rock, a granite dome with spectacular views of the Great Western Divide, and the western half of the park. The Tokopah Falls Trail follows the Marble Fork of the Kaweah River to an impressive waterfall with a height of 1200 feet. Besides hiking and exploring you can enjoy fly fishing, or take advantage of the shuttle service to visit other local attractions.
Facilities: The Lodgepole Campground attracts tent campers as well as RV campers to over 200 campsites. There are paved roads, flush toilets, and drinking water. At each site, picnic tables, fire rings, and bear food storage boxes are available. Lodgepole offers coin-operated showers and laundry machines. There is a gift shop and market a short walk away from the campground. There is an available amphitheater and shuttle bus service you can utilize.
Cost: Camping costs $22 a night with an entry fee of $35 per vehicle.
Gerstle Cove Campground, Salt Point State Park
There is something special about Gerstle Cove Campground nestled along the Northern California coast. Whether you're visiting the area or planning a weekend at the beach, Gerstle Cove deserves your attention. This is a great campsite for beach camping. You can explore the State Marine Reserve and take a short walk to explore the beach.
Gerstle Cove campground is situated on the rugged coastline, ocean side of Highway One, atop grassy coastal bluffs. With 20 miles of hiking trails, over six miles of rugged coastline, and an underwater park, you can enjoy picnicking, hiking, horseback riding, fishing, skin diving, and camping.
Facilities: Gristle Cove Campground offers drinking water and restrooms. Each of the 28 campsites arranged in a single loop are outfitted with a picnic table, campfire ring, and food lockers. No showers or dump tanks are available.
Cost: $35 per night
Kirk Creek Campground
Kirk Creek Campground is a bit of saline serenity for the outdoor enthusiast. Five miles up Highway 1 from Sand Dollar Beach, it's the longest stretch of sand along the Big Sur coastline. Each of these an-side campsites overlooks the Pacific Ocean for amazing views that receive raving reviews. Book a site closer to the cliffs or with its own walkway to the beach. Trails lead you into Los Padres National Forest where you will find more amazing views and things to do.
Nearby activities include hiking, paddling, horseback riding, fishing, biking, and swimming. To make the most of the nearby activities you will want to take your vehicle.
Facilities: This campsite offers volts but no running water. Each of the 32 available campsites has a gravel or grass parking, a table, and a campfire ring with a grill.
Cost: Sites cost $35 a night
North Pines Campground, Yosemite National Park
North Pines Campground in Yosemite National Park California, in the rugged Sierra Nevada Mountains, is situated in the valley floor near Upper Pines Campground and Lower Pines Campground. These three campgrounds are Yosemite National Park's most popular destination for campers, and they fill up fast.
Really, all three are great campgrounds with easy access to all the beautiful places and famous destinations within Yosemite National Park. What does set North Pines apart though is that North Pines campground is the most accessible of the three for RVs.
The campground is set in a heavily forested area of California black oak, Ponderosa pine, Incense-cedar, White fir, and Whiteleaf Manzanita. This does provide plenty of shade during the day, but does limit views of the surrounding mountains. Some sites do offer views of the Merced River.
Yosemite is well known for it's waterfalls and famous hiking trails, all of which are easily accessible from the campground via shuttle.
Facilities: North Pines Campground offers 81 campsites. It offers paved roads and parking spurs, flush toilets, and drinking water. Each campsite contains a picnic table, fire ring, and a food storage locker. Yosemite's free shuttle bus stops at the campground entrance. Nearby historic Curry Village offers a general store, restaurants and bar, amphitheater, and tours and activities desk.
Cost: $36 per night
Indian Well Campground, Lava Beds National Monument
In California's northeast corner, in Siskiyou County, is Lava Beds National Monument, a volcanic landscape dotted with cinder cones and hundreds of lava tubes. Indian Well Campground is located 1/2 mile from Cave Loop Road in the national monument and is home to some of the most popular and family-friendly lava tubes to explore for an amazing and unforgettable adventure.
This campground is first come first serve but does not usually fill except for weekends around summer holidays making this a great place to stop in and camp when traveling. The campsites here are desert camping with very little to no shade after wildfire destruction.
Facilities: Indian Well Campground offers 43 campsites. Restrooms with sinks and flush toilets are available for use. Campsites include fire rings, picnic tables, and grills.
Cost: $10 per night with a $25 entrance fee to the park.
Wright's Beach Campground, Sonoma Coast State Park
If you dream of camping on the sandy beach you will love Wright's Beach Campground. Located near the beach, this campground is part of Sonoma Coast State Park. The real appeal here is that campers can pitch their tents right on the sand while still staying within the boundaries of their own campsite. Those staying at campsites 1-10 will have a view of the ocean. The rest of the 27 campsites are all within walking distance of the beach.
The ocean here is not safe for swimming but you can enjoy a great range of activities including exploring the coast, watching for wildlife, photography, bird watching, and even hang gliding. Trails connect you to nearby beaches for more activities including whale watching, and kiteboarding.
Facilities: The 27 available campsites all have paved parking spaces, picnic tables, and fire rings. This campground offers flush toilets and running water but potable water is not available at this campground, but Bodega Dunes is close by.
Cost: $35 a night for standard sites and $45 a night for premium sites.
Pfeiffer Big Sur State Park
This state park operates its own campground. There are more than 1,000 acres of redwood forest, scenic rivers, and spectacular views of the coastline at Pfeiffer Big Sur State Park. The Pfeiffer Big Sur is centrally located near many of Big Sur's top attractions, including Pfeiffer Beach and the Henry Miller Memorial Library, as well as grocery stores for restocking your supplies and restaurants.
Explore the trails and landscape of Pfeiffer Big Sur spend your days exploring other coastal attractions nearby. A half-mile River Trail runs alongside a towering redwood grove as it flows alongside the river. The Buzzard's Roost trail provides great views of the ocean as well as a longer hike within the park. The beach is not part of the park and does have a separate entry fee.
Facilities: The state park features 19 RV and tent campsites along the Big Sur River, which flows through the park. Pfeiffer Big Sur State Park offers bathrooms with coin-operated hot showers, fire rings, picnic tables, hiking trails, an amphitheater, and even a wonderful nature center. No hookups are available.
Cost: Standard campsites go for $35 a night while riverfront campsites cost $50 a night. This campground offers 1 cabin for rental at $75 a night.
Jedediah Smith Redwoods State Park Campground, Redwoods National and State Parks
Jedediah Smith State Park is one of three parks that are jointly operated with Redwoods National Park in California's Redwood Country. Located less than 10 miles from Crescent City, Jedediah Smith Campground is a popular destination throughout the year, thanks to its proximity to the Wild and Scenic Smith River and to the numerous groves of very tall trees.
Jedediah Smith Campground boasts a wide range of activities including hiking, fishing, boating, horseback riding, and swimming. You can keep busy with guided tours, exploring historical sites, and taking advantage of family programs.
Facilities: Rent out one of the 86 camping sites for your tent or RV. There are 4 cabins available that tend to book up to 6 months in advance. This campground offers a full range of facilities from an RV dumpsite to bathrooms, showers, and animal-proof food storage boxes.
Cost: Campsites can be rented for $35 a night while cabins are available for $100 a night in the summer months and $80 a night in the winter.
Antlers Campground, Shasta-Trinity National Forest
In the Shasta-Trinity National Forest, the largest in California, there are many places to camp. The Antlers Campground is located atop a bluff overlooking the Sacramento Arm of Shasta Lake, this campground offers tent and RV camping. You will find many great views of the lake while being surrounded by a shady and an oak and pine forest.
Lake Shasta offers a variety of water sports, including power boating, non-motorized boating, and water skiing. Near the campground is a public boat ramp. If you go fishing you can catch trout, catfish, Chinook salmon, crappie, bluegill, white sturgeon, brown bullhead, and bass. Antlers Amphitheater is within walking distance of the campground, and Lake Shasta Caverns tours are popular day trips from the campground.
Facilities: Each of the 59 campsites, a picnic table, lockers for storing food, fire rings, grills, and tent pads are available at each site. This campground offers both tent and RV sites, but there are no electric/water hookups or dump stations. This campground has both flush and vault toilets, and drinking water, but no showers. An interpretive program is held every weekend between Memorial Day and Labor Day at the nearby amphitheater
Cost: Single sites go or $23 a night while double sites for larger parties go for $46
If you're looking for a great camping experience, look no further than Northern California. The 12 campgrounds on this list are sure to please everyone in your group. From secluded spots along the river to sites with all the amenities, we've got you covered. Make sure to grab our free printable camping planner to help you plan out your next trip!
What's been your favorite camping experience at a Northern California campground so far? We would love to hear about it, and what you think are the best camping spots in Northern California!
Disclaimer: Provided campground costs are current for 2022, but are subject to change. Please verify the cost with the campground prior to your trip. Campers may also be subject to park entrance fees.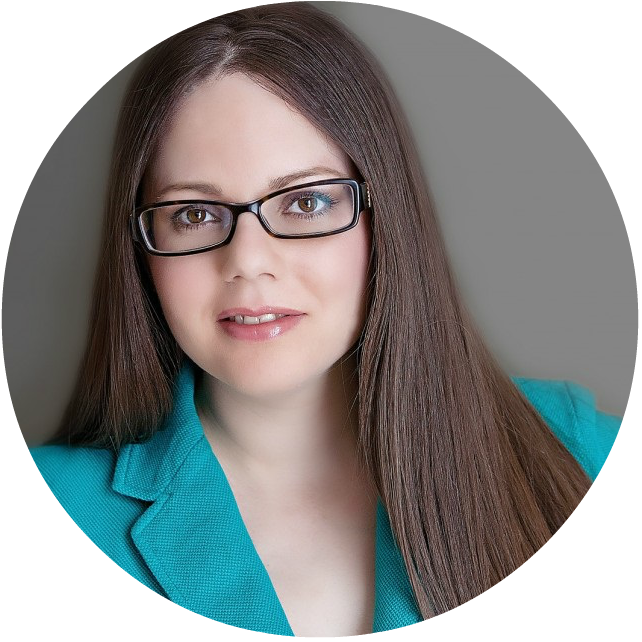 Elizabeth Lampman is a coffee-fuelled Mom of 2 girls who lives in the Niagara region of Ontario. She loves photography, camping, hiking, and travel.